The environmental concerns are changing how we work. The Pandemic has shown that changes are possible and now it is time to develop our way to work.
Here is the main structure of our online services. This is the start of something new, the development of online consultancy will see few limits in providing services efficiently.
Contracts will move from paper to digital, but not the persons dealing. Human beings still need to meet. By making routine meetings digital, the lesser by still important physical meetings will not only be more efficient but also more enjoyable.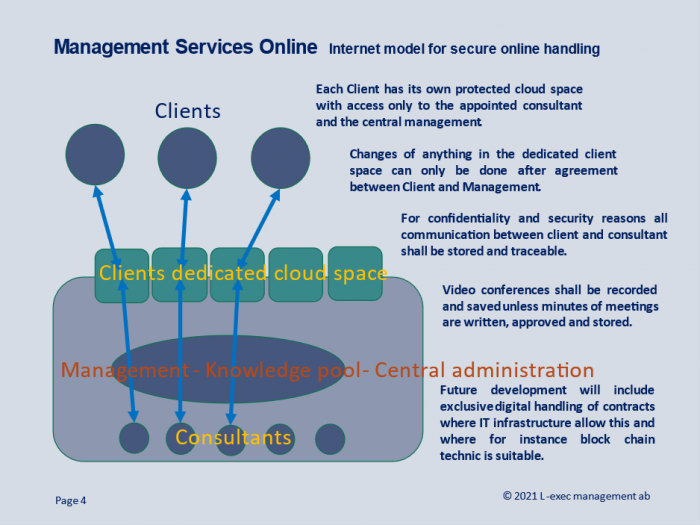 Many have now experienced working on distance and learned how to use videoconferences and online tools. The change of how we will work continues. Consultants are no exception. Lots of the services can be provided online. This will minimize traveling and reduce environmental footprints.
Easy access to experts whenever needed. No long-term employments, just assign the experts online when the questions arise. No "idling" or "invented" doings to keep people occupied the hours they, in reality, are not needed.
No reason to avoid adding experts for important tasks.
The experts online are no robots, they are human beings understanding your thoughts and ideas and they are happy to discuss and answer your questions.
Even your in-house experts may want to double-check with colleagues for not letting anything slip by.
Training can be arranged online – we still want to meet eye to eye sometime, but frankly, lots of up-to-date training and meetings can well be done online.
We look forward to extending our network of participating consultants as well as making customers aware of the advantages going online can give.
As consultants, be prepared to reduce flying around the world, stay in nice hotels. To meet and to experience new environments is not removed from the agenda, only reduced. A change will always bring new things, some liked, some disliked. When we realize that a change is a must, our curiosity and our creativity will make sure we find new and better values in the change, both as persons and as companies. Don't fight the future, you will lose. Embrace it instead and join in to create something better than before.
Contract Management and other management services online are just a small step into the future. Take it on now to be part of the development.
This will keep you in control instead of forcing you into something you cannot control or not even understand.