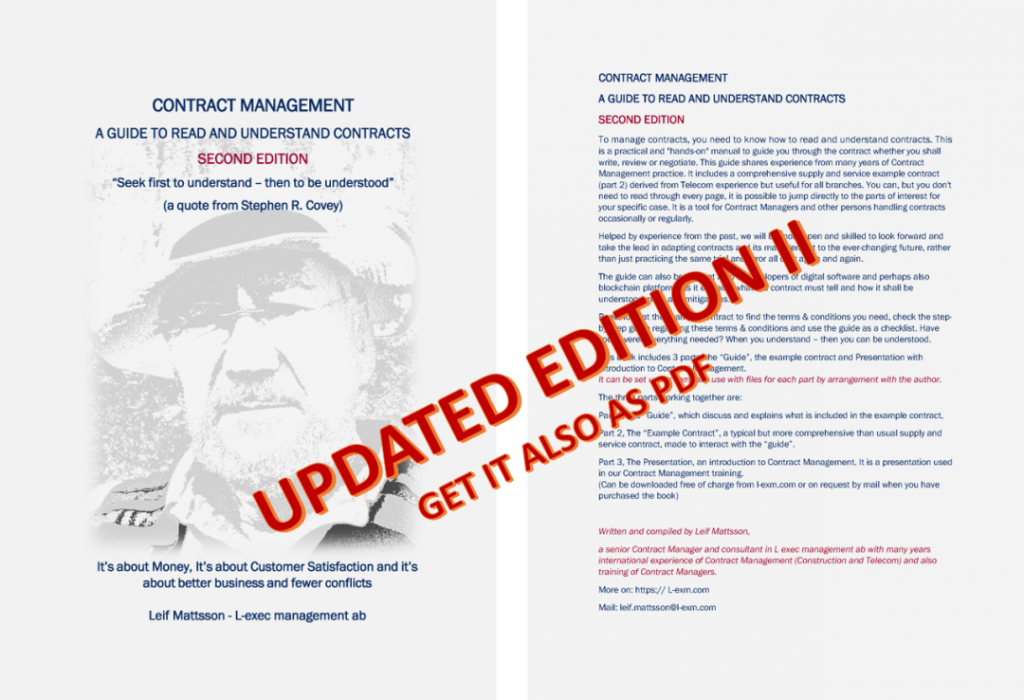 [vc_row][vc_column][vc_column_text css=".vc_custom_1603730497135{margin-bottom: 0px !important;}"]
GUIDE TO UNDERSTAND AND WHAT TO LOOK FOR IN A CONTRACT AND ITS CLAUSES
The Guide is now updated and available for buying at Amazon / Kindle as an eBook and as a Paperback (See also under the Blog menu). Find it on Amazon.com Kindle books and search for Contract Management.
Hard to find? Here is a link:
Contract Management: Guide to read and understand contracts.
Buy it, contact us by e-mail and get it as a pdf-file (presentation can be downloaded as PowerPoint)
This "Guide" is intended to be used as a "manual" when drafting or screening contracts and to help you discuss and negotiate them.
It explains the contract content and the particulars in every clause of a comprehensive example contract. The guide explains the contract and there is a short presentation giving a short introduction to Contract Management.
Part of the example contract can be used as a template to form part of your own contract. This means that out of the example contract, it is possible to pick relevant parts and modify them for your specific contract. Even if it is easy to copy, it is good practice to make sure that a final contract does not include more than necessary to cover its subject matter. Don't add anything just "to be sure" or by thinking "it may not harm" since that is probably what it will do. Just use what is needed and consult with your legal expertise before sending or presenting any draft to your counterpart.
The headings under which the clauses are discussed are:
Objectives and Considerations

Watch out for

Risks and Contractual Mitigations

Further Comments
The table has links to the example contract for easy orientation and use. It will help less contract experienced persons to understand what is in the "contract language" and also why it is there.
For Companies having this easy-to-use guide provided to its contract responsible staff, mail us and we will arrange something and offer you the 3 parts as files and if you wish, also combined with a personal introduction and Contract Management training.
[/vc_column_text][/vc_column][/vc_row]
PRESENTATIONS - FILE PACKAGES
This is an overwiev of the presentations we use for training. They will be provided as part of our training material but can also be ordered if you wish to use them for own training. Contact us for offer. Contract Management - An overview (File no 1 below), is now available to all as a free download (PowerPoint file).
Package one, 3 files:
1. CONTRACT MANAGEMENT – AN OVERVIEW with a presentation to give a broad overview of Contract Management and its meaning.
2. CONTRACT MANAGEMENT – PROCESS with an example of a Contract Management process with sub-processes for offers, contract handling, screening and sign-off.
3. CONTRACT MANAGEMENT AS PART OF A "RESCUE TEAM" discussing Contract Management as an integral part of "troubleshooting.
Package two, 2 files:
4. CONTRACT MANAGEMENT – WHAT IS... (MOU, LOI etc).
5. SHORTCOMINGS IN CONTRACTS pointing at common misunderstandings and open and unclear statements.
Package three, 2 files:
6. INVOICING AND CASH COLLECTION as part of Contract Management or in any other organizational structure.
7. CONTRACT AND CASH FLOW with example and base for a discussion about how a contract may impact cash flow.
These presentations are intended for training and workshops. It can be used for self-study even if we recommend that it shall be used and presented by persons experienced in Contract Management.
The Guide and the presentations will be provided at no extra charge if assigning us for training or workshops. It can, however, be ordered separately as files for download. Please contact us by mail for an offer.